An overview and review from Victoria Mew and Jon Cree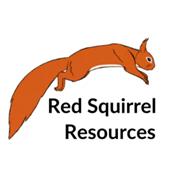 Following an appraisal against set criteria, the FSA is happy to support these resources and point to them in order to support quality delivery of Forest School. There is a reciprocal relationship that can give member benefits, the most obvious one being a reduction in the cost.  Reciprocity, after all, is such an important value when working in a Forest School way.
There is a of discount of 15% available only to FSA members to access Red Squirrel Resources
There follows an account, from Vicky Mew, about the incubation and birth of this resource which will grow, like a human, as it matures.  Vicky is the inspiration for this resource and has been joined by a number of well-seasoned and skilled educators to produce this ever-increasing 'toolkit'.
"I instinctively knew that this was the right place. I had cleared a small patch of the ground, close to the fire circle. My hearth board was securely in place under my left foot, and under the hearth board I had carefully tucked in my small piece of cedar bark ready to catch a coal. Holding the bow and spindle in my right hand, with my left hand I checked my hand hold.
I listened attentively to the sounds around me, I could hear the birdsong undisturbed, the soft footfalls of others in my group collecting sticks and snapping twigs ready for the fire. I smelt the air. I could smell that there had been a fire there previously but there was no fire alight at the moment.
Listening, sensing. Yes, it felt right.
I began the familiar process of twisting the spindle into the bow string and placing the spindle in its socket in the hearth board. And so I began the process. By now the bow drill was by far my favourite method of lighting a fire. It was so familiar to me: every cell of my body knew exactly what to do to spin a coal. I could do it blindfolded.
In fact, I was blindfolded. So was everyone else in the group. The instructions were simple. 'Make your way to camp and make the fire with a blindfold on'. 'Oh, and take a large mouthful of water but don't swallow it.' This time the challenge was on to do it without talking.
This was Anake, my nine month journey at the Wilderness Awareness School in WA, northwest USA. My drive and desire to go there was sparked six years prior at a Trackways family camp in Sussex, run by Thomas Schorr-Kon. At 12 years old I was immersed in a week long camp that set me on this path that has led me to where I am now. There, for the very first time, I experienced what I felt to be real life! Not school, or sports or even holidays came close to this. This was different. This was as real as it got, realising that everything came from nature. Here I created my own home out of sticks and debris, I had a go on my first bow drill fire after witnessing an ember be birthed from wood and blown into flame. This ignited not just the fire but a passion within me for survival skills and a desire to learn more.
It was at Anake that I met Jon Young, founder of the Wilderness Awareness School (WAS) and the world leader in nature-based community building. He had been mentored at a young age in nature connection by Tom Brown Jr, a renowned naturalist, tracker and survivalist. When Tom was younger, he too had been mentored by Grandfather Stalking Wolf, a Lipan Apache elder who had wandered the American continent seeking teachers and learning the old ways of people who lived close to the earth.
Jon Young's work has involved distilling the cultural elements of indigenous communities and it was at WAS I became aware of how we can consciously affect cultures and subcultures to enrich them and bring back cultural mentoring. He has shared his deep understanding of bird language in many courses and his book; 'What the Robin Knows'. His work has touched thousands of people world-wide both directly and through inspiring others to share nature connection elements in their communities. It was from Jon that I learnt about the Eight Attributes of Connection, originally inspired from Gilbert Walking Bull who spoke about the Seven Sacred Attributes in the Lakota lineage. These now serve as not only my guiding principles in life but also what I am striving to instil in those that I work with.
The Eight Attributes of Connection
1. Love and forgiveness
2. Quiet mind
3. Childlike happiness
4. Vitality
5. Paying it forward / Mentoring
6. Empathy and respect for nature
7. Being truly helpful
8. Feeling fully alive
This has been the main drive of my work. To bring children and adults into connection with themselves, each other and of course the natural world. On return to the UK I worked with Jon and others to bring the 'Art of Mentoring', a week long connection immersion program, to the UK for the first time in 2010.
Having returned from Anake feeling resourced, both physically and emotionally, I set about searching for and creating a community of connected people. Since 2012 I've been weaving the web of a nature connected community, mainly in Sussex but with dear connections made throughout the UK and Europe. I am so grateful to all those who've touched my life and who continue to support me.
Looking back, I know that the week-long family survival camp I did at 12 years old lit up my path that I continue to walk to this day. I want to inspire connection in as many people as possible and this was the drive for co-authoring 'Learning With Nature', and so it is now for my latest offering: Red Squirrel Resources. I keep meeting more and more adults with aligned motivation to ignite a passion in the younger generation for real life experiences in nature and a deep love of nature. My hope is that these videos and downloadable resources can bring you continued inspiration, expand the breadth and depth of what you might bring to your groups, as well as serving as an invitation to you to nourish your own nature connection journey enabling you to bring even more to those you spend time with outdoors.
Thank you, Victoria Mew"
A review of the Resource
On looking at this resource, and the organisation behind it, it certainly fulfilled the FSA criteria for support that we drew up this summer and I can 'feel' the 8 attributes Vicky stated above coming through….there is a deep love and respect for the learning and growing process, and for the natural world.
On entering the website the feel is clear, the way it is laid out, and the resource pays attention to many small details which is what really adds to its integrity and coherence.  It encourages the practitioner to look for the subtler aspects of outdoor learning that really do lubricate the learning cogs and lay a good foundational 'path'.  I was drawn in by the structure and the leaping squirrel that builds on the learning in bite sized chunks, or as we would say in Forest School parlance "small achievable steps"  – leading us from one short film to the next making this a progressive cumulative experience and in the end we can make charred cloth, play with 'games' in an increasingly creative way.  It really does build our knowledge of the natural world, through to, for example, how to forage and connect safely and yet imaginatively.  It demonstrates how this can be a long-term process supporting the ethos of a progressive long term Forest School programme going from, for example, simple whittling through to more involved woodcraft, and how to work with the seasons.  There are so many tips on this journey – from ways of lifting bark off a stick and when to do this, through to how do we know if material is 100% cotton in order to make good quality charred carbon cloth for 'igniting our fires'.  I, for one, am off to test lots of materials now in this direct concrete yet simple way!!
The areas of nature connection work covered in the resource so far are;
'The foundations' – some really important building blocks to start from;
'Games' to stimulate physical play and understanding and 'attuning' to the natural world and each other;
'Outdoor Sensory activities';
'Stories';
'Crafts' demonstrating handtool use and hand based experiences to create things from the natural world;
'Wild Cooking' this includes fire use – from the basic through to the more advanced firelighting techniques, foraging, and cooking
'Knowledge' of the natural world and ways we can interact with it.
Each experience is accompanied with written descriptions to supplement the films, and give health and safety tips in sample risk assessment templates with the rider that these are samples and we each need to go through the process. Many of the films show the experience in action with children to give a real feel of how this is done in reality and how we can support children in their own risk taking.
Each experience is cross referenced to others and to the learning and development that could be expected showing how all the resource is interrelated and makes a 'holistic' learning point. There are links made between activities and child protection, health and safety, minimizing ecological impact and woodland care.
The above list of resource categories will grow and the team are adding new materials each month. There is interaction with the users, and the development of the resource will be based on feedback from the users.
If there is one thing I would add in terms of the long term development of the resource to chime even more with Forest School, it would be to add more ways of working in the learner-centred mode and how we as facilitators can work with learner preferences. For example providing even more ways of splitting wood so the learners can discover their own way or even demonstrating how we dialogue with learners so they feel that ownership – which should be increasingly easy to show in this film based resource.
Having said all this, this is a really good resource especially for those starting out and want to add their own 'invisible toolkit' and even for so-called 'old hands' like myself there are new titbits in there that will add to our own continuing development as outdoor 'Nature' and 'Forest School' practitioners
For FSA members there is a 15% discount on the resource.  As stated above once you are in there it will grow as you start using it and you will have a chance to feedback on further additions to the resource.  To get a feel of the website do visit www.redsquirrelresources.co.uk , if interested in getting further details e-mail info@redsquirrelresources.co.uk and if you are an FSA member and want to get the 15% discount do login to the FSA website and go to the member benefits page.
Jon Cree, October 2020