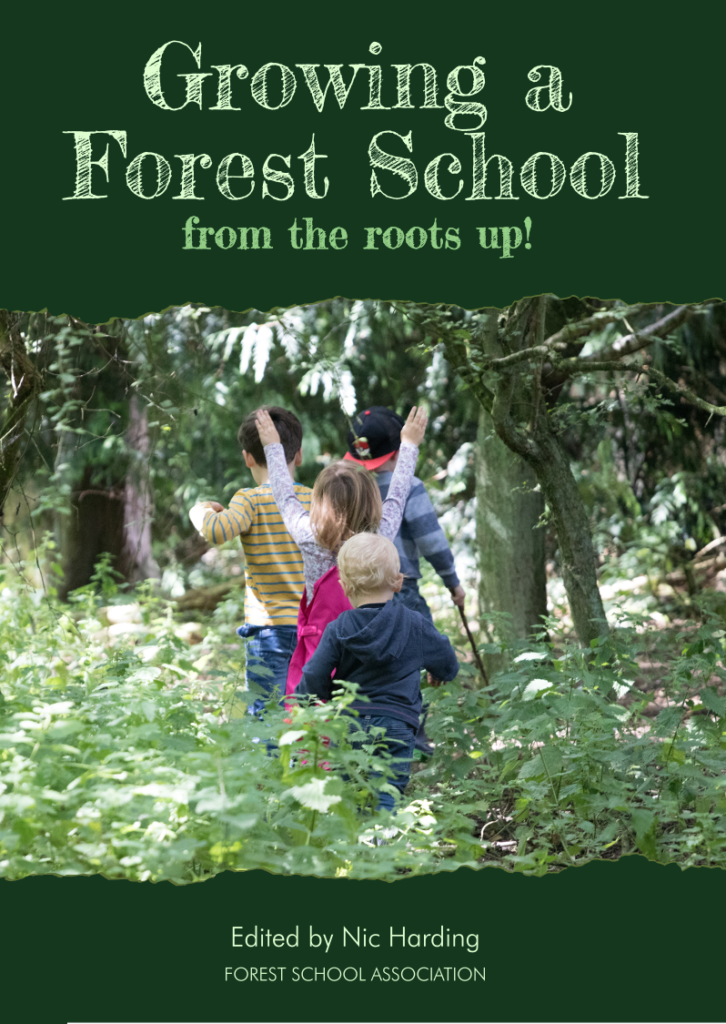 Language: English  A4 size 256 pages,  Publisher: Forest School Association,  Publication Date 14 December 2021,  ISBN (paperback) 978-1-3999-0529-9
I wish I had a copy of this book when I started my Forest School Journey! To have so much supportive information in one place is so very helpful for developing good Forest School ethos and practice
This practical book resonates with the latest thinking about how to deliver good quality Forest School sessions
*** FSA members enjoy a 30% discount (if logged in) ***
This A4 size 256 paged comprehensive and illustrative guide to setting up a Forest School is a compilation of knowledge and wisdom from some of the Forest School Association's most experienced trainers, leaders and members.
This book bridges the gap between the 'Forest School curious' and those already committed to setting up a Forest School. It tackles all the relevant information and reflective insight needed to Grow a Forest School from the roots up. Covering important topics such as:
• The Forest School ethos and principles
• The benefits of Forest School provision
• The role of a Forest School Leader
• Developing a new Forest School Enterprise
• Setting up new Forest School provision
• Land use and landowner agreements
• Finding and maintaining a Forest School site
Is setting up a Forest School the right thing for you? This book will help you decide. If the answer is 'yes', it will put your Forest School journey firmly on the right path. Maybe you know someone who is thinking about setting up a Forest School or wants to change the world?
Then this book needs to be in their hands!
Terms and conditions
Shipping
Once you have purchased your item it will be packaged and shipped (at standard shipping rates) within 3-5 working days after completion of your order.  You have the right to cancel your order up until the point of shipping.
Shipping outside the UK and Northern Ireland
Shipping goods outside the UK will incur additional shipping costs and appropriate taxes. For shipping outside the UK, please contact us to arrange your order prior to completing your purchase.
VAT and Taxes
Books are zero rated for VAT in the UK, so all prices are quoted without VAT.
Returns
If for any reason your item does not reach you in a satisfactory condition you must notify us of your intent to return the item within 14 days of the order confirmation. You will then have 14 days to return the item to us for a replacement or refund. You will be responsible for shipping costs. You have the right to cancel your order up until the point of shipping.
Bulk orders
For orders of 10 books or more please contact us for invoicing and shipping costs in advance.
Contact:
Telephone: 01228564407
Email: enquiries@forestschoolassociation.org