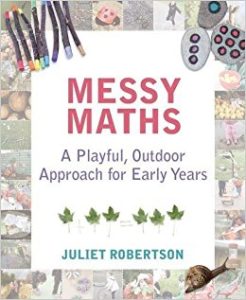 Messy Maths by Juliet Robertson
Published by: Crown House
Bloomsbury July 2017 – 252 pages
ISBN 13: 978178135266 3
Reviewed by Leanne Brown
I am already a fierce advocate of children having ample access to self-directed learning opportunities outside. The opening pages of 'Messy Maths' equally inspire me.
The introduction so eloquently illustrates how our outdoor environment enables young children to make sense of their world. It is a clear and concise argument for the place of outdoor play and experimentation in early year's education.
The author recognises the importance of play in early years, and provides practical illustrations as to how we can use these opportunities to introduce the language of, and conceptual understanding of, mathematics.
The books best use is not as a lesson plan resource, but more a reference to dip into, providing inspiration and ideas to expand upon. Ideas are brief, succinct, and written in a way that poses questions of practitioners and educators. This is a clever skill of the author, making the book come alive, challenging the best educators to expand learning opportunities within their environment.
The book plants a seed and then encourages you to grow it using effective and thought provoking questioning. Pictures illustrate not only the activities described, but also how a range of different outdoor environments enhances children's learning.
What I really like about the book, is that whether I read it as a mother, or as a professional responsible for supporting development within early years, I can see the possibilities to further enhance the experiences of children.
I would urge you to use this book as your go-to guide for fostering natural mathematicians out of our naturally inquisitive young nature explorers.
[End]
Leanne Brown is a home educating Mum, an early year's childminder, forest school leader for early year's groups, and experienced in delivering child led outdoor play, exploration and learning experiences within primary schools and for an autism friendly family charity club.